Description
JobRoller is the most popular job board theme for WordPress. Our feature-rich application theme was built for ease-of-use and tight integration with WordPress so you'll be online, selling job listing space, and accepting new resumes within minutes.
It includes separate portals & tools for both job seekers and employers – everything you need to quickly deploy and establish your own online recruitment business!
With thousands of App Themes customers and a very active community, you can trust that JobRoller is here to stay. To learn more about our features, continue reading below.
JobRoller Theme Overview
Job Seekers & Employers
Tap into new business and grow your user base with support for job seekers. Just like employers, job seekers have their own portal and management tools where they can post their resume (CV), update their profile, and be searchable on your site.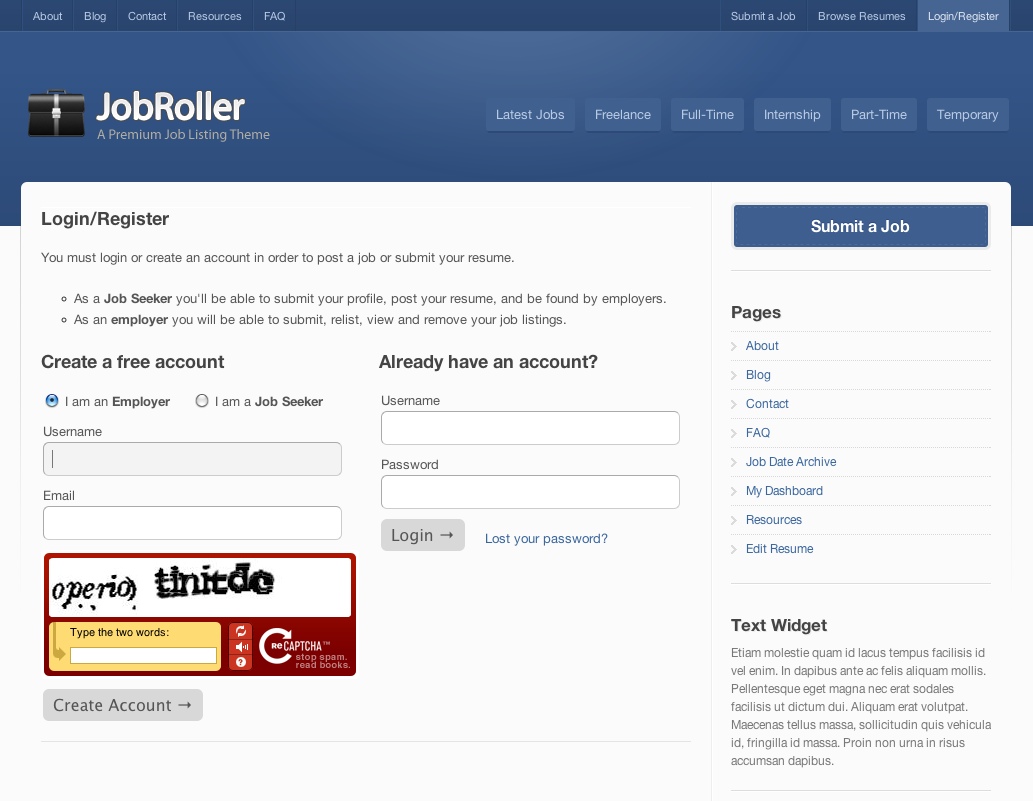 Custom Job Types
JobRoller comes with five job types pre-installed. But don't let that hold you back. Create as many job types as you desire, quickly and easily.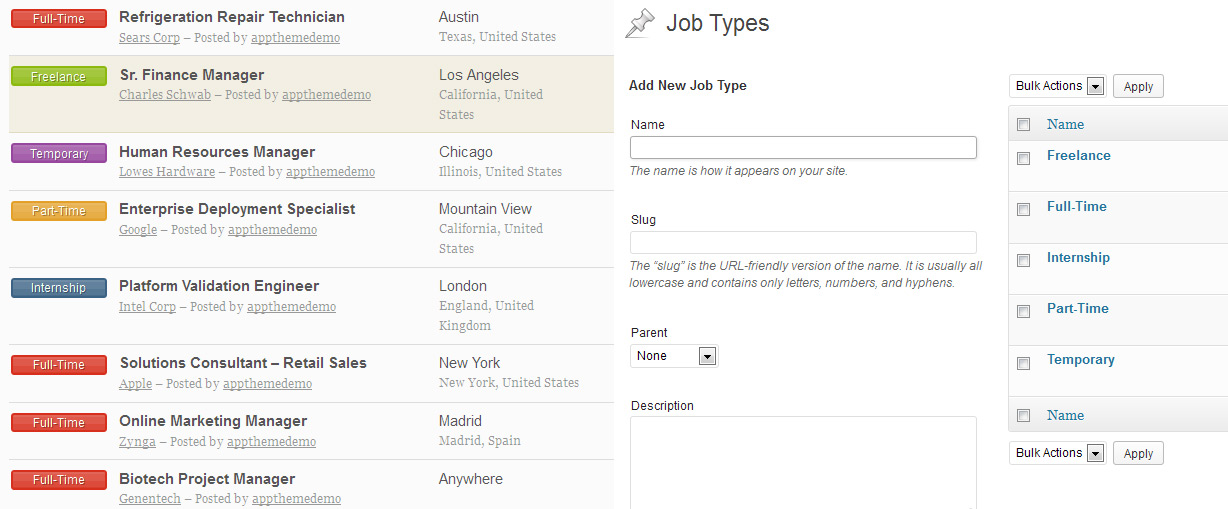 Resume (CV) Database
Job seekers can list their resume covering past experience, education, skills, and specialities. A separate section for browsing resumes is visible and even searchable. With the job search market so hot, now is the time to capitalize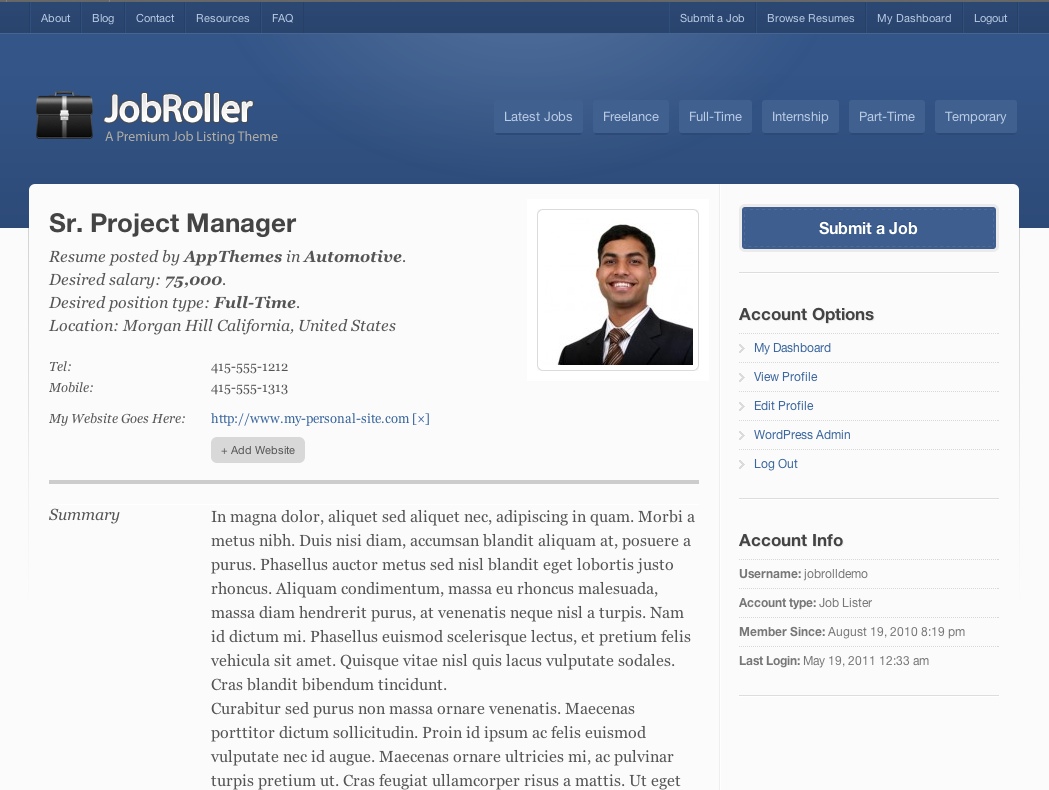 Transaction Logging
Keep track of all your job listing sales from within JobRoller. Every time a PayPal transaction takes place, it securely sends it back into the JobRoller database so you don't have to login to PayPal in order to check your sales.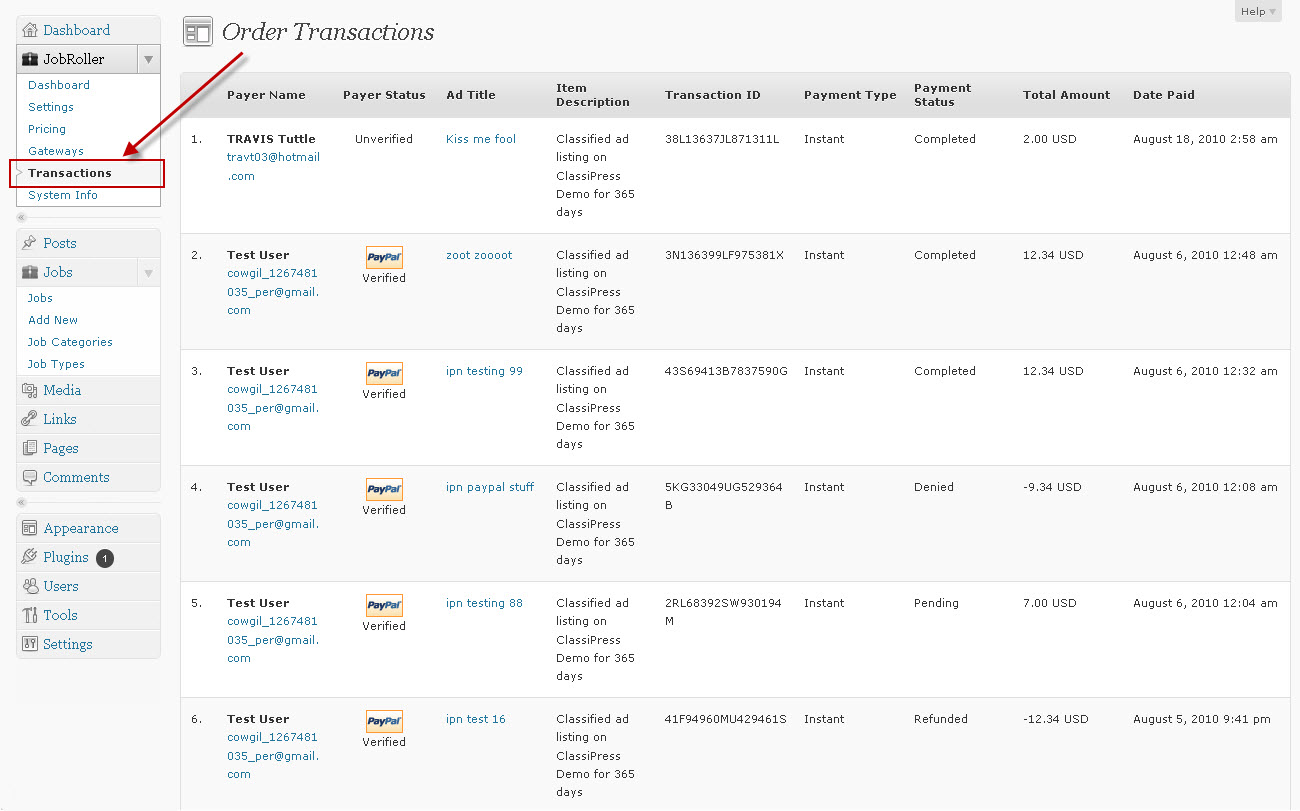 Recruiters, too!
Give employment recruiters the extra access they must have with the recruiter role. Enabling the recruiters option in JobRoller adds the role to the registration page unlocking extra permissions for the power users that need it.
Auto Resized Images
Company image logos uploaded with each job listing are automatically re-sized into three different sizes. All images are accessible from within the WordPress media library and are visible on the job listing edit screen which makes management a breeze.
Apply for Job Form
Each job listing includes a built-in "Apply for this Job" form so applicants can instantly upload their cover letter & resume. Their application gets routed directly to the job poster via email.
AJAX & jQuery Features
JobRoller includes the latest technologies with features like AJAX field auto-complete and jQuery Lazy Load which helps your site load faster and saves you precious bandwidth costs.
Easy Administration
Running your AppThemes site is easy. We include options for just about everything so you're comfortable managing your business operations.
Dedicated Blog
Keep the marketing beat going by writing content on your blog. It's part of the theme, yet completely separated out using the native WordPress posts module.
Feeds from Indeed & More
Get jobs from the biggest names in the biz! Indeed, Simply Hired, and Careerjet want you to post their jobs on your site and they'll pay you to do it. Our publisher feed plugins make it happen. Indeed comes with JobRoller at no extra cost.
SEO Friendly
We understand how important SEO is for your business. Our themes are built to instantly take advantage of SEO best practices. All you need to worry about is running your business.
Child Themes & Plugins
Change the look of your site with a 3rd party child theme. Add additional functionality with an aftermarket plugin. All our themes make it easy to bolt on other items.
AppThemes API
Developers can easily customize functionality without having to modify the original code. We use WordPress action and filter hooks which makes it a breeze to build on top our products.
---
Original Sales Page : Visit here View Theme Demo: Click here